Book online Call us: +44 (0)1736 753010

Holidays in St Ives Bay, Hayle
Toms Holidays is set amongst the rolling sand dunes of St. Ives Bay, above the fabulous three mile beach at Hayle. With some of the warmest waters in the country, a mild climate and plenty of space on our forty acre site, Toms Holidays at Riviere Towans, Hayle, is the ideal place for that family beach holiday or for exploring the many attractions West Cornwall has to offer. During the day enjoy the glorious beach only minutes from your holiday home and in the evening relax and watch the sun set over the bay from some of our sea front properties. We are a family run business, with a wide range of properties, catering for all tastes and budgets. Many of our customers return year after year and we are sure you will find your ideal holiday and look forward to welcoming you to Toms Holidays.
<! ------------------------------Bottom Images --------------------->
Self Catering Accommodation:
The wide variety of properties available includes traditional beach chalets, modern bungalows and newly built lodges, some positioned overlooking the sea, others enjoying more spacious, quieter areas of the park. The properties have mainly two or three bedrooms, but we can accommodate up to eight people in one of our properties. We have two properties suitable for the disabled with easy access and wet rooms. Dogs are welcome in many of our properties. All properties are detached and only a few minutes' walk from the beach.
<! ------------------------------Bottom Images --------------------->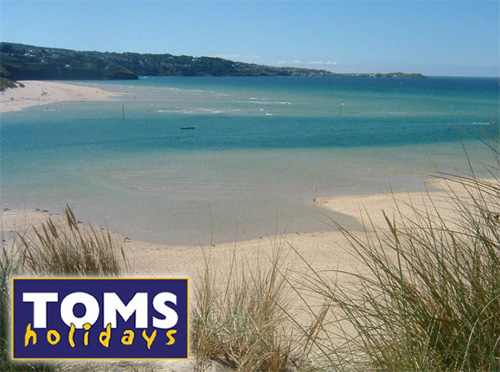 Toms Holidays Self-catering Holidays
Holiday Chalets Riviere Towans St Ives Bay
(+44) 01736 753010
Free Internet access is available.
Click Here to visit our website
Contact Details
To email a request for further information or to make a reservation enquiry,
please click the button below.
Toms Self Catering Holidays
3A Riviere Towans,
Hayle, Cornwall,
TR27 5AT
Telephone: (+44) 01736 753010
Fax: (+44) 01736 756086