Karenza Bed & Breakfast
B&B Holidays Helford Estuary Helford River - Gillan - The Lizard
Sleeps 2-5 guests - 3 bedrooms

Karenza nestles on the coastline at Gillan, very close to the wonderful Helford River with its beautiful walks and boating facilities.
Gillan is ideally situated for exploring the the Lizard Peninsula and surrounding areas, just minutes away from the meandering creeks of the Helford Estuary.
You can stroll down to our local coves to enjoy safe bathing and marvel an the beautiful scenery.
It's a truly unspoilt and un-crowded part of Cornwall. At low tide, cross by stepping stones to the picturesque St. Antony which has boat hire facilities.
Bed & Breakfast Stays at Karenza
The Bed & Breakfast accommodates 2-5 guests over 3 bedrooms with a lounge and bathroom.
The property is charming, stylish and has a very relaxed atmosphere; the rooms are tastefully decorated throughout in a contemporary style and has all the comforts one would expect from luxury holiday accommodation.
Bed & Breakfast Tariff
Bed and Breakfast from £45 pppn - including Breakfast
NB Single Person Supplement applies
Sorry no pets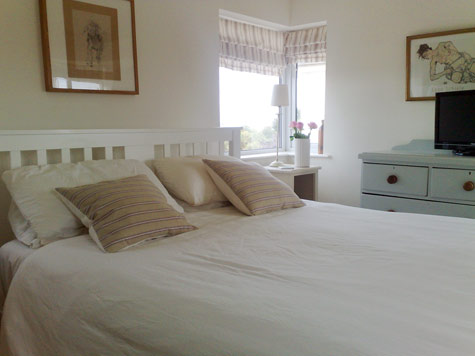 Upstairs Double bedroom