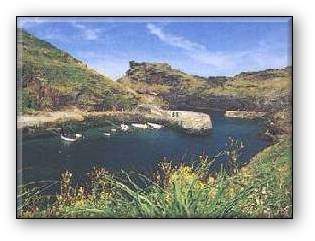 Three Inns, three Rivers, three Churches, and a most popular harbour. An attractive village protected not only by the National Trust, but also by the steep hillside holding back adverse weather. When the sun shines as it so often does, even though national forecasters don't seem to know about it. Boscastle traps the warmth. This is also evident with its proprietors of accommodation and a friendly atmosphere prevails.
The Elizabethan Harbour, built in 1584 by Sir Richard Grenville of 'Revenge' fame, has been the scene of many acts of heroism and treachery over the years with privateers and volunteers, smugglers and wreckers. An hour before low water, with a rough sea that is, you can see and bear a splendid blow hole rendering water and spray across the harbour mouth.
Along this stretch coastline lives the legend of King Arthur, the Knights of the Round Table, the Quest for the Holy Grail. The Chapel of St James is believed to have been built on the ancient pilgrim route to Compostella in Spain. The Rivers Jordan, Valency and Paradise flow through the village. The Valency Valley is a fine walk around to the dark and intriguing Minster Church, almost enmeshed by rare trees and shrubs looking for light. Jordan Vale is the steep hill running from the Bottreaux House Hotel to the Wellington.
A walk up or down takes one "back in time". Forrabury Church stands high up to the south of Boscastle and not too far off the coastal path. The site of "Botreaux Castle" is at the top end of the village dating back to 1100 A.D., and the views over Boscastle are quite magnificent when approaching from this direction. It' s worth turning around and going back again should you be travelling upwards. The castle of Bottreaux, from which Boscastle gained its name, has, alas, vanished but it is said that much of the village was built from its stone. Indeed there are stone windows in the Wellington that are reputed to have come from the Castle.
A tiny opening and a road near here takes you down past Minster church through a valley to Lesnewth and St Juliots Church. Thomas Hardy fell in love with Boscastle when working as an architect on the renovation of St Juliots Church. He also fell in love in Boscastle, to Emma Gifford, whom he married after a four year courtship—it was not a successful relationship and ended in tragedy after 30 years. Hardy was not daunted but returned to the land he loved and wrote some of his most moving poetry. A copy of "A Pair of Blue Eyes" will describe all the valleys and cliffs up to High Cliff (731 ft), the highest in Cornwall.