Switch off in the soulful embrace of one of Britain's most awe-inspiring landscapes, a landscape which has changed little over centuries.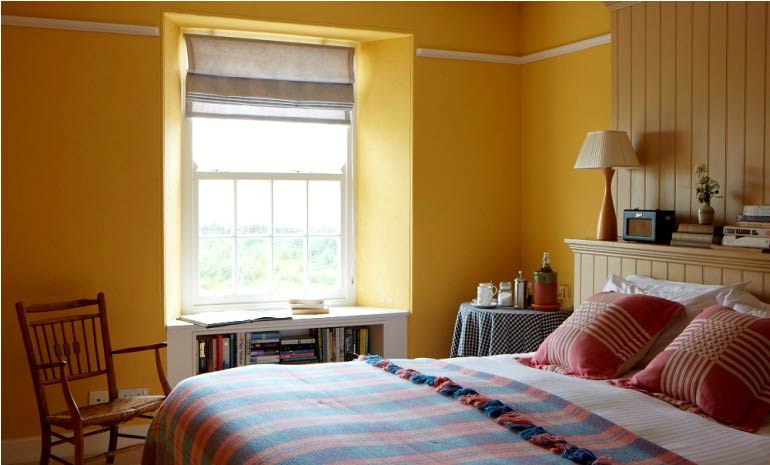 BEDROOMS simply decorated with the softest of linen and fluffiest of pillows


REAL FOOD: stellar cooking of the best of ingredients


INTERESTING WINES, priced as restaurant wines should be


A COMMUNITY HUB with the finest Cornish ales and weekly live music


DOGS as welcome as humans


A PERFECT base for long walks, short walks or even no walks


BEER GARDEN looking out to the Atlantic
The Gurnard's Head is a dining pub with rooms on Cornwall's Atlantic coast between St. Ives and St. Just, near the Minack Theatre, Zennor, Penzance and Newlyn. A most excellent base for the South West Coastal Footpath (500 yards), the Minack Theatre, Land's End, St. Ives (7 miles) and Penzance (7 miles).
The Gurnard's Head Hotel is about …
THE SIMPLE THINGS IN LIFE DONE WELL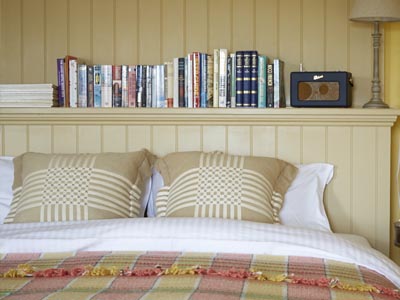 At The Gurnard's Head Hotel, all rooms have en suite showers and now Rooms 3, 4, 5, 6 and 7 (left) have baths. Room 1 has more than a glimpse but less than a view of the sea. Room 7 definitely has a view of the sea. But don't be fooled into thinking the views of the moor are second best.
Rooms 3, 4, 5 and 6 now have new bathrooms and new shower rooms make Rooms 1 and 2 much improved. We hope that you will approve of the changes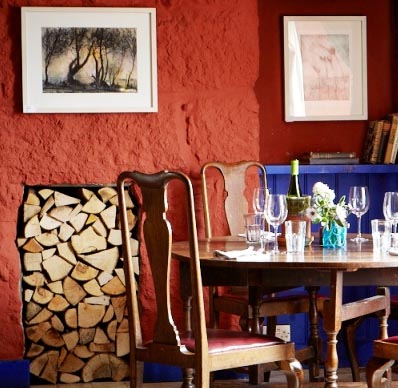 Eating at The Gurnard's Head
Feeding Times
Open every day, except 24 and 25 December.
Lunch 12:30pm — 2:30pm
(Sunday 12:00pm)


Supper 6:30pm — 9:00pm
(Summer: 6:00pm)
For more details on dietary requirements, service charges, group bookings, Visit our Website
No supplementary charge for dogs
We welcome dogs as much as their owners and are happy for them to sleep in the bedrooms, although would prefer that they don't share our beds with their owners.
Our Guest's bedrooms are about melting into one of the books that lie around the building, listening to a Radio 4 play on the Roberts radio or staring out to the sea or to the sheep flecked moors.
Some guests are even sufficiently hypnotised to wait for the hooved shuffle of the cows on their twice-daily amble to and from milking.
What you will see in our rooms are those Roberts Radios, fresh flowers, White Company toiletries, local art and warm, Welsh blankets.
Your breakfast will set you up for the day. Cornish yoghurt, house-made jams, local apple juice, toast you make when you want it and a choice of kippers or a full English breakfast. If only we could join you.

Bed and Breakfast Tariff

BB from £120 to £185
DBB from £170 to £235
Double £120 to £130
Twin £145 to £185

B&B /room

DB&B /couple

Room 1
Small Double.Looks towards the Atlantic. With shower.

£120

£170

Room 2
Small Double
Overlooks moor.
With shower.

£120

£170

Room 3
Double -A good double overlooking the moor - with bath .

£135

£185

Room 4
King Double/Twin Good double looking over the moor with bath.

£145

£195

Room 5
Large King Double or Twin*
Most suitable for a family with bath.

£185

£235

Room 6
King Double/Twin Overlooking the moor with twin/wide double- with bath..

£145

£195

Room 7
Large King Double or Twin* Best room. Overlooks the garden with views to the ocean.

£185

£235


Seasonal Sleepovers

September Sleepover

3rd September - 5th October
Stay with us for two or more nights from £309 per couple including your bed, breakfast and three courses each night from our usual evening menu.