Bed and Breakfast Stays and Holiday Cottages in Mullion & The Lizard Peninsula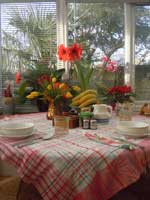 Mullion is the ideal location for exploring places of interest on the Lizard peninsula, including ,Goonhilly Earth Station, Lizard Lighthouse, Marconi Radio Station, Kynance Cove, Lizard Head (the most southerly point) and Mullion Harbour.
Mullions spectacular golf club overlooks the sea at Church cove and welcomes visitors. Horse riding can be enjoyed from the nearby livery stables.. Hire a boat from the Cove for a fishing trip or visit the seal sanctury at Gweek.
If surfing is your sport then Poldhu cove attracts novices and experts alike, having consistant breaks on most days of the year The Lizard peninsular has a timeless quality, a land set apart from the rest of Cornwall. Spring comes early here with the cliffs and hedgerows ablaze with flowers. Autumn days can be golden and warm, others wild and wonderful, a place you will want to return to again.