2017 Prices
Per Week including VAT

Saturday
Two Bedroom Super
Three Bedroom Super
Date
Sleeps 4
(1 double / 2 single)
Sleeps 6
(1 double / 4 singles)

1st April - 29th April

£254
£306

29th April- 1st July

£338
£394

1st July - 22nd July

£402
£470

22nd July - 26th August

£499
£584

26th August - 2nd September

£402
£470

2nd September - 30th September

£338
£394

30th September - 28th October

£252
£306
ALL ELECTRICITY and GAS is included in the rent.
We hope that you will find everything you need but SHEETS, DUVET COVERS, PILLOWCASES, and TOWELS S are NOT PROVIDED. (Bed linen may be hired at the extra cost of £19 per double bed and £13 per single and £3 towel.). Caravans are expected to be left clean and tidy please.
It is STRICTLY NON-SMOKING in all caravans.
We do allow VERY WELL BEHAVED DOGS. Please make sure you bring covers for furniture and some bedding/basket - Dogs are NOT allowed on beds!

Caravan deposit £100. Cash/cheque or online payments please, we have no card machine onsite.

Balance due on the day of arrival please, by cheque, cash or on line transfer.
Please make cheques payable to Chynhalls Parc

ON ARRIVAL - all caravans will be available from 3pm.

ON DEPARTURE- all caravans must be vacated by 10am.
CANCELLATIONS in writing AT LEAST SIX WEEKS before date of booking. If less than 6 weeks we will do our best to re-let, but it is a condition of the booking that the whole rent will be payable unless a re-booking can be arranged. Thank you.
Self-catering Holiday Caravans
Sleeping 4 and 6 people
Coverack - the Lizard Peninsula

Chynhalls Parc is an exclusive, privately owned static caravan site set in beautiful, tranquil grounds of approximately one acre, adjoining National Trust and open countryside.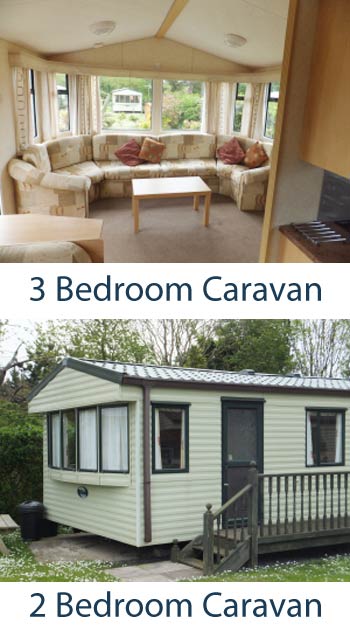 Situated near the coastal footpath, it is in short walking distance of a secluded beach, cove and the picturesque fishing village of Coverack (approx 10 minutes walk).

The beautiful Lizard Peninsula, renowned for coastal walking, water sports and sandy beaches.
Coverack has a traditional working harbour, a general store, and post office, Internet Cafe, friendly pub and several eating establishments.
There is also a windsurfing school and diving nearby at Porthkerris on the many wrecks around the Manacles.
Mullion Golf Club is a short drive away.
SELF CATERING HOLIDAY CARAVAN ACCOMMODATION
We have both four & six berth holiday homes, each 1 double and 1 twin bedroom (two in six berth). Each one is set in landscape gardens with an individual outlook.
All vans are finished to a high standard each equipped with colour TV, fridge/freezer, full size cooker, microwave, electric kettle, toaster, utensils, crockery, iron and ironing board.
All have full size shower, hand basin and toilet.
Duvets and pillows are provided, except for bed linen, tea towels, towels etc.
Bed linen may be hired at extra cost.
There is parking for cars alongside the vans.
For everybody's peace of mind, dogs are not allowed during peak holiday times.
It is STRICTLY NON SMOKING in all caravans.
We are currently carrying out a green policy where we are providing recycling bins for plastics, cans, glass and paper, your co-operation would be greatly appreciated.
The site is open Easter (one week before) and closes at the end of October.