ST IVES CORNWALL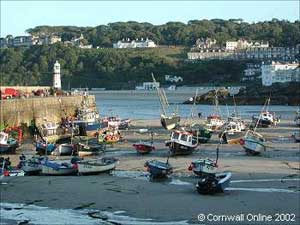 St. Ives offers the visitor everything that they could wish for in a seaside resort.
The town has a Mediterranean feel about it, with its maze of narrow streets and alleyways, crescent shaped beaches with their safe golden sands, accented by sunlight playing across the surface of an iridescent turquoise sea - all set, in the uniquely rugged granite landscape of West Penwith, with waved hewn cliff faces, prehistoric remains and the haunting ruins of the once great tin and copper mining industries, which flourished throughout the area.
From the moment that you arrive in St Ives you are stunned by the panoramic vistas that seem to greet you on every turn. This is a place that truly has something for everyone.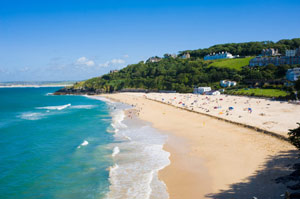 Families can spend countless hours playing in the golden sands of the resorts gently sloping beaches, or simply, taking a relaxing dip in the uncharacteristically warm sea.
Surf enthusiasts can chase that elusive wave, along Porthmeor beach, whilst those who are seeking somewhat more cerebral delights, can explore the towns history or experience the art work on offer in one of St. Ives' many galleries.
Bed and Breakfast accommodation at Carlyon Guesthouse
Four main bedrooms all have glorious uninterrupted sea - beach - and coastal views overlooking the award winning Porthminster beach.